LUCAS SITHOLE
LS6714
"Guitar Player" ("Street musician"), 1967 - Acryl/board - 063x096 cm
Provenance:
Warren Siebrits Fine Arts, Johannesburg - 1998
Priv. Collection, Springs
Lucas Sithole - directly
Work in collection of:
MTN Art Collection, Sandton
Work exhibited:
Sandton Civic Art Gallery, Sandton - 2003 (MTN Art Collection)
Work as reproduced on web in 2003: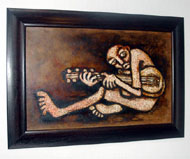 Original site: http://www.joburg.org.za/2003/june/june12_jazz.stm
Photograph:
First photographed by Martin C. Gishen, Benoni
Note:
In about 1970, this work together with LS6713 (q.v.), was swapped by Lucas Sithole for a set of car tyres, from the first owner (information provided by Martin C. Gishen, Benoni, in 1995, who had been Lucas Sithole's lawyer)!