LUCAS SITHOLE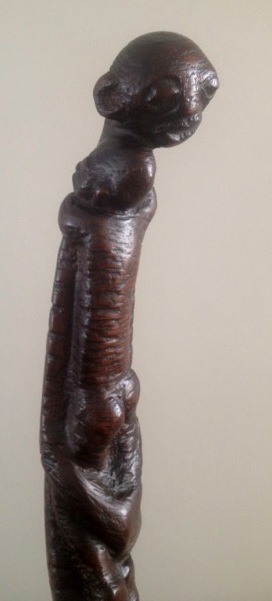 LS6837
"Mother and child", 1968 - Rhodesian teak - abt. 87cm H - front view and close-up with child
Provenance:
Priv. Collection, Johannesburg - 2013
Priv. Collection, Johannesburg
Gallery 101 Johannesburg
Work exhibited:
Gallery 101 Johannesburg 1968
Work sold on auction
Russell Kaplan Auctioneers, Johannesburg - 30th March, 2013 - Lot P96 - ZAR 250'000
Note:
This work has never been exhibited since it was acquired from Gallery 101 and remained unrecorded until 2013 except as Query Z.

Lucas SITHOLE is holding the sculpture (undated cut photo in our archives)
LS6837 is one of the very few works where the Mother is "kneeling", peculiar to this period!

The sculpture is properly signed down across the back!