LUCAS SITHOLE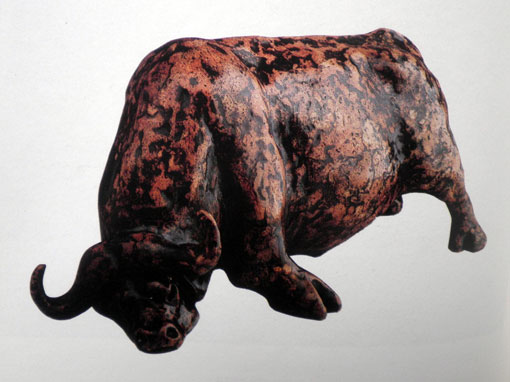 LS7005
"Wounded Buffalo II", 1970 - liquid steel - 037x???x078 cm
The Maquette II. of LS7101 for Bracken Mines q.v.
Provenance:
Private Collection, Johannesburg
Gallery 101, Johannesburg - 1971
Work exhibited:
Gallery 101, Johannesburg ("The Winter Art Exhibition 1971" arranged by Group 51)
Gallery 101, Rand Central, Johannesburg - 5th October, 1970
Work listed:
Gallery 101, Johannesburg ("The Winter Art Exhibition 1971" - Group 51), cat. 97 - ZAR2500
Work illustrated:
Rand Daily Mail, Johannesburg - 17th October, 1970, ill.
"The Dictionary of South African Painters and Sculptors" (Ogilvie) (Everard Read, Johannesburg) (1988), ill. opp. p. 605 - ISBN 0 620 12663 9
Work documented on Youtube:

Click on image for better view!
Still from documentary "Lucas Sithole, sculptor" produced and directed by Richard Harvey in 1968/1970. The 12' documentary can be seen on http://youtu.be/mhOqAuqn1OE.

Lucas SITHOLE is explaining his work which relates to his life around him, supported by music composed by Professor Alan Solomon. Included are a number of views from the solo exhibition held at Gallery 101, Johannesburg, on 5th October, 1970, including the above work.
See sketch for this on second image of LS6838

Lucas Sithole was commissioned by Union Corporation Ltd., Johannesburg, in the late 60's, through Mrs. Anderson, the wife of the then MD or Chairman, for a large bronze sculpture to be put up Bracken Mines. It was based on a maquette Lucas had made for Lady Ina Oppenheimer's farm of Brahmans at Hekpoort. The well-known Afrikaans sculptor Hennie Potgieter made his fully equipped studio facilities at Schoemansville on the Hartebeespoortdam over a period of many months available, at no cost, and Lucas completed the full-sized plaster there. Hennie Potgieter showed Lucas how to first build a wire structure, and then to apply the Plaster of Paris. It then had to be transported to the foundry of Hendrik Joubert in Schoemansville and was cast as a unique piece.