LUCAS SITHOLE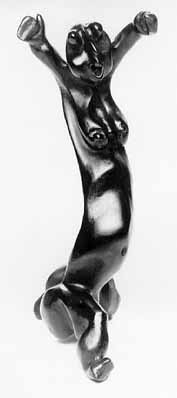 LS8506
"Dancing by the riverside", 1985 - Umgwawuma wood - 083x035x047 cm
Provenance:
Gallery 21, Johannesburg
Die Kunskamer, Cape Town
Work exhibited:
Gallery 21, Johannesburg - 1985 cat. X05
Work illustrated:
City Press Prospects, Johannesburg - 3.11.1985, ill.
Press review:
Vaderland, Johannesburg - 6.11.1985 commented
The Star, Johannesburg - 20.11.1985, commented
Our Art4 Ons Kuns (F.E.S.T., Pretoria), 1993, commented
Note:
This sculpture is recorded and illustrated in the monograph published in 2015
"Lucas SITHOLE 1931 – 1994: Highlights 1966-1993" – ISBN 978-3-033-04655-9 – on pp. 132/133
Artist's legend:
"Yes, something in me, in my tummy, dances; when it starts moving inside me, it makes me feel like dancing all the time. It's non tiring, the more you wriggle, the more you'll want to do it".