LUCAS SITHOLE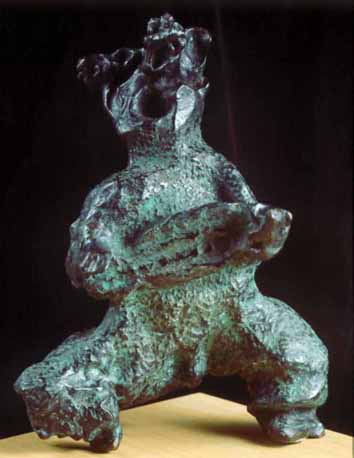 LS9106
Collection:
Johannesburg Art Gallery, Johannesburg (Gertrude Agranat Bequest) - acq. no. 1993.05.02
"Dancing Goliath", 1991 - Indigenous wood from Namibia with copper oxide patina - 041x031x021 cm
Provenance:
Gallery 21, Johannesburg
Work exhibited:
Gallery 21, Johannesburg - 1991 cat. X08; 1991/2 cat. X07; 1992 cat. X13
Work illustrated on 3rd party website:
Manuel Halpern: Styles Dictionary blogspot - 28th January 2015 - Modern Sculpture
Note:
This work was presented in 1993 to the Johannesburg Art Gallery by The Haenggi Foundation Inc. in memory of the late Gertrude Agranat, together with LS9107.
Note:
This sculpture is recorded and illustrated in the monograph published in 2015
"Lucas SITHOLE 1931 – 1994: Highlights 1966-1993" – ISBN 978-3-033-04655-9 – on pp. 194/195