LUCAS SITHOLE

LS-Query "LL"
"Elongated figure", 19?? - wood on liquid steel base - 94.5 cm high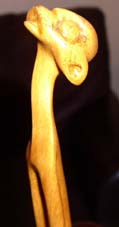 LS-Query "LL" (close-up)
Provenance:
Everard Read Gallery, Johannesburg - 2005
Query/comments:
This work was misnamed by Everard Read Gallery or the last seller; the wood appears to be "mahogany" - will first or present owner please let us know the LS or HP number which appeared under the base so that we can give the sculpture its proper name, otherwise please let us have further details (date acquired, original name etc.).