Lucas SITHOLE
Mini Master Registry

For a better view and further details, please click on small images hereunder!
Master Registry Reference numbers in date order and last known whereabouts have also been included.
Other media: Panels and murals Ib.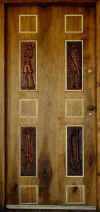 LS6212 - SOUTH AFRICA
DOOR DISMANTLED IN 2007!
Note:
On the death of Zandberg Jansen (well-known art critic and rugby commentator) on 18th September, 2006, who had commissioned the door from Lucas Sithole for his then house in Primrose, Germiston, the door was dismantled and the individual panels were sold by his Estate to the Ellerman House Collection, Bantry Bay, Cape Town.
Remaining individual panels

LS6213

LS6214

LS6215
LS6216
All at Bantry Bay, Cape Town, South Africa
>>> next: Panels and murals II.