Lucas SITHOLE
1931 - 1994
Opening speech by the South African Ambassador to Switzerland on 11.2.1995
Pictorial References, Comments and Other Stories
Abridged C.V.
LUCAS TANDOKWAZI SITHOLE
Born on 15.11.1931, in Springs, Transvaal, Republic of South Africa - died on 8. 5.1994, in Pongola, Transvaal, Republic of South Africa.
Born of a Zulu father and a Swazi mother; was married, had 7 children. Lived in Kwa-Thema, Springs, Transvaal, until 1981, thereafter near Pongola on the Swaziland/Mozambique border. Never travelled beyond the SA borders, except to Lesotho and Swaziland.
To find out more about Lucas SITHOLE and his FAMILY, please click here!
PUBLIC AND INSTITUTIONAL COLLECTIONS
in Europe and Africa
Museum der Weltkulturen, Frankfurt a.M., Germany
Evangelisches Zentrum, Berlin-Brandenburg, Germany
The Haenggi Foundation Inc., Johannesburg / Basel (PELMAMA Permanent Art Collection) (donated to Oliewenhuis Art Museum, Bloemfontein 2006)
__________________
National Museum & Art Gallery, Gaborone, Botswana
__________________
S.A. National Gallery, Cape Town
Oliewenhuis Art Gallery, Bloemfontein
Durban Art Gallery, Durban
Johannesburg Art Gallery, Johannesburg
Pretoria Art Museum, Pretoria
(incl. 50% of the unfinished works at the time of Lucas' death, donated by the Estate and The Haenggi Foundation Inc.)
__________________
University of South Africa (UNISA), Pretoria
University of the Free State, Bloemfontein
Rand Afrikaans University, Johannesburg
University of the Witwatersrand, Johannesburg
University of the North West, Mmabatho
University of the North, Sovenga
University of Fort Hare, Alice
(incl. 50% of the unfinished works at the time of Lucas' death, donated by the Estate and The Haenggi Foundation Inc.)
__________________
State Theatre, Pretoria
The Rupert Family Foundation for the Arts, Stellenbosch
Numerous Corporate Collections in South Africa
PARTICIPATION IN SELECTED EXHIBITIONS
including Europe and the U.S.A.
1965 Piccadilly Gallery, London
1968 Venice Biennale, Venice
Gallery 101, Johannesburg - October, 1970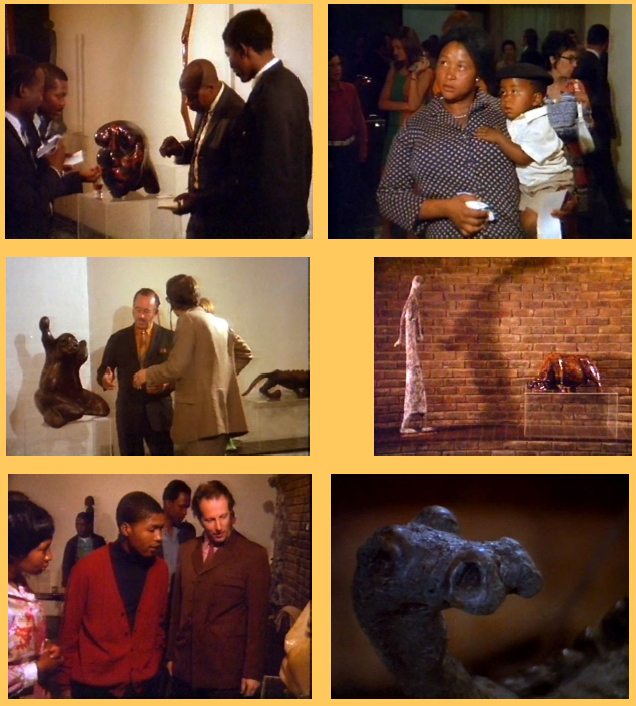 Stills from the show's opening at Gallery 101 Johannesburg on 5th October 1970 per documentary produced and directed by Richard Harvey 1968/1970, shown on Youtube
1974 ART 5'74, Basel
1974/75 Gallery 21, London
1976 Texas A&M University "Art of Black Africa" (from the Rex Grey Family Collection)
1979 Rand Afrikaans University, Johannesburg (Retrospective Exhibition) - opening speech by Maj. Reuben Sive on 15th August, 1979
1979 Pretoria Art Museum, Pretoria (Retrospective Exhibition)
1985/86 "Quellen und Strömungen", presented by BMW in Germany and Austria
1993 Ludwig Forum für Internationale Kunst, Aachen, Germany (Meisterwerke der Sammlung Péus)
1995 Kunstsammlung Kulturstiftung, Unterseen / Interlaken, Switzerland (Memorial Exhibition)
1996 Galerie Rosengarten, Thun (Criss + Cross / Kreuz + Quer) (July/August)
1997/98 Galerie Artimex Fine Arts AG., Basel
2001 "The Short Century", curated by Okwui Enwezor, exhibited at:
Museum Villa Stuck, Munich, Germany; Haus der Kulturen der Welt, Berlin; Museum of Contemporary Art, Chicago
2002 P.S.1 Contemporary Art Center and The Museum of Modern Art, New York
__________________
in Africa (other than South Africa)
1976 National Museum & Art Gallery, Gaborone, Botswana
1977 National Gallery of Zimbabwe, Harare, Zimbabwe
1978 National Art Gallery, Bulawayo, Zimbabwe
__________________
Click this link to see full list!
SELECTED BIBLIOGRAPHY

1. Lucas Sithole 1958 - 1979 by F.F. Haenggi - ISBN 0-620-03982-5
2. African Arts Magazine, UCLA, Los Angeles (Review: Aug., 1980)
3. Images of Man - Contemporary S.A. Black Art and Artists, 1992 (de Jager), pp. 120/124
4. OUR ART 4 ONS KUNS, 1993 (Marilyn Martin) pp. 178-185 - ISBN 0-7970-2832-3
5. Lucas Sithole: Highlights 1966 - 1993 (F.F. Haenggi) - ISBN 978-3-033-04655-9
__________________
Click this link to see full list!
WORKS RECORDED
The total oeuvre completed by LUCAS SITHOLE exceeds 800 sculptures in wood, stone, liquid steel and bronze, most of which have been recorded and over 480 photographed. About 200 sculptures are in collections in Europe and the Americas.
Full Copyright on all works by Lucas SITHOLE is held by The Haenggi Foundation Inc., Johannesburg / Basel under copyright agreement with the artist's Estate.
You need the written permission of the copyright holders to reproduce any of the works on this website in any manner, including all other sculptures or paintings created by the late Lucas SITHOLE. Obtaining copyright permission will as a rule only entail the cost of sending a few copies of your publication for archival purposes, supplying professional slides and notifying us, giving full details, so that our master register may be kept up-to-date. All infringements may cause you unnecessary legal costs !
AVAILABILITY TO MUSEUMS AND INSTITUTIONS
A few major works are available to institutions in Europe or the U.S.A. on long-term loan or as a conditional donation - please contact webmaster for details!.

Opening speech by the South African Ambassador to Switzerland on 11.2.1995
To read this speech in German, please click here.
Pictorial References, Comments and Other Stories
| | |
| --- | --- |
| 1. Pictorial References: | Please click on pictures for close-up ! |

View of part of the exhibition held at the Pretoria Art Museum in 1995 following the donation of numerous unfinished works from the Estate of Lucas Sithole. In the forefront left "Just a few drops", 1979 (LS7909) is to be seen.
__________________
View of part of the memorial exhibition held at Galerie der Kunstsammlung Unterseen, Stadthaus, Unterseen / Interlaken, Switzerland, in 1995, showing numerous sculptures by Lucas Sithole loaned by collectors in Switzerland. A video of the exhibition, uploaded in 2012, can be seen on this link.
__________________
2. Comments:
One would normally imagine it being of special significance to have a work selected by a famous guest curator to be included in an international travelling exhibition (The Short Century - Independence and Liberation Movements in Africa 1945-1994), as shown at the Museum Villa Stuck, Munich, thereafter in Berlin, Chicago and New York, during 2001/2002. As the title of the exhibition implies, the criterion was not whether the work represented the artist at his best, rather it seemed to fit in with the theme.
Thus a lesser painting from the artist's short formative period in his early career was chosen!
It's about time that international museums and public institutions stopped presenting art from South Africa just for the sake of politics.
In this connection, it is worth mentioning that Lucas SITHOLE supported financially his local community (such as helping to build a local school near Pongola) and he donated to selected charities whenever he was able to.
Fernand F. Haenggi
__________________
3. Stories and Artist's legends:
Lucas Sithole often used to give an explanation why he made his sculptures. The following are typical stories and should be read with reference to the relevant images as indicated:
"Guduza Nkunzikayikhathali" ("Non-tiring Bull") (LS7417) is a very hard working man. He is married to "Ngixolele Baba" ("Forgive me") (LS7407) - she is his wife no. 1. They have one child together and then he leaves to go and work on the mines in Egoli (Johannesburg). When he returns after 5 years he is very upset to find 3 children in his hut under his wife's care. He asks her what happened and she tells him to go to his mother whose name is "Magodovu" ("The Peacemaker's wife") (LS7340).
Whilst he was away working on the mines, she went to this old lady with her problem - she could not stay on her own any longer and she wanted to leave and go and find a new husband, but the old lady loved her very much and did not want her to leave the family. She told her that she should go and live with her youngest son, her husband's brother. They had 2 children together which accounted for the husband's anger and it hurt him that his wife could not wait for him and that she went to live with his brother and had 2 children by him. But after his mother had explained the whole story to him, he understood and went back to his wife, and they were very happy.
The "Non-tiring Bull" (LS7417) then met another woman with whom he fell in love; he paid the lobola and married her. Her name was "Thembekile" ("The Faithful Woman" (LS7403). They only lived together for one month before he went back to work in the mines, whilst she stayed at home waiting faithfully for him to return once again.
An old woman was tilling the fields, carrying her baby on her back. As the day got longer, she could not carry the baby any more so she put him down on the ground. Soon thereafter she heard a large bird behind her swishing down, and before she could react, that bird - the large Eagle (LS8109) - had carried her baby away in his claws.
She tried to explain this later to her friend (LS8312), showing how the Eagle had come down with wings and claws outstretched, ready to pounce (LS8316). However her friend did not believe that an eagle could have taken a child away, and so they kept on throwing words at each other.
And so they argued until the friend finally agreed that if it was an eagle, it could not have been a female, for surely she would feel for small children and would not have taken the baby away; rather it could only be a male Eagle (LS8315) who would do such a thing and be strong enough.
This story was told by Lucas Sithole at the time of his exhibition at Gallery 21, Johannesburg, in 1983, when all four works were on display. The base of the eagle LS8109 actually depicts a baby's head. The male eagle LS8315 is depicted with claws turned into men's trousers.
See the sketch Lucas SITHOLE made!
| | |
| --- | --- |
| | To read about other legends, do an internal search for "legend". |
Here are a few links of interest to present or potential owners of works by Lucas Sithole:

Please contact us if you own a work to enable us to update our master register at no charge to you ! This information is confidential and will only be used for museum exhibition purposes outside of Africa, and is in your interest for identification purposes.
last updated 24th May, 2017